The Top Ramen Shops to Try in Tokyo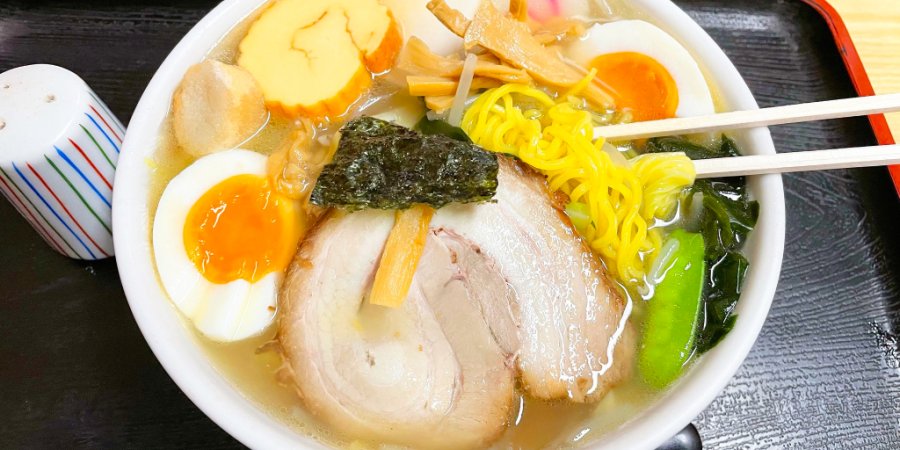 Tokyo is home to over 5,000 ramen restaurants ranging from hole-in-the-wall shops to Michelin-starred hot spots. From thick, wavy tsukemen noodles to crisp, light yuzu-infused bowls, the ramen variety in this city is endless. To help guide you to the best bowls, I've compiled this list of must-visit ramen joints that will satisfy all your noodle cravings. Get ready to slurp your way through Tokyo at these amazing ramen shops!
Ichiran - 一蘭
Address: Multiple locations throughout Tokyo
Ichiran's customizable dining experience is what makes this chain of ramen shops so popular. Each booth has a bamboo curtain you can lower to focus solely on your made-to-order bowl. Using the order form, customize everything from broth richness to noodle thickness and spice level. The tonkotsu broth is wonderfully creamy and pairs perfectly with Ichiran's signature thin, straight noodles. Add some spicy red pickled ginger for an extra kick.
Tsuta - 蔦
Address: 1 Chome-14-1 Sugamo, Toshima City, Tokyo
Tsuta made history as Tokyo's first ramen restaurant to earn a Michelin star. Its signature shoyu ramen showcases a light yet intensely flavorful pork and fish broth. Thick, wavy noodles pair beautifully with tender pork chashu, pickled bamboo shoots, and a perfectly cooked marinated egg. Worth the inevitable wait, Tsuta's bowls highlight why it earned its prestigious accolade.
Konjiki Hototogisu - 金色不如帰
Address: 2 Chome-14-5 Kiyosumi, Kōtō City, Tokyo
Website: https://www.konjikihototogisu.com
Another Michelin-starred spot, Konjiki Hototogisu specializes in a creamy niboshi shoyu ramen that gets its rich flavor from dried baby sardines. Curly noodles soak up the thick broth beautifully and are topped with juicy chashu, sweet corn, bamboo shoots, green onions, and a shoyu-marinated nitamago egg. The rich complexity of the broth makes it a soul-warming meal on cold days.
Rokurinsha - 六厘舎
Address: 4 Chome-2-8 Ogikubo, Suginami City, Tokyo
Website: http://www.rokurinsha.com/
Rokurinsha is best known for its thick, wavy tsukemen noodles that you dip into a separate bowl of concentrated broth. The umami-packed tonkotsu dipping broth can only be described as mouthwatering. Customize your tsukemen with soft-boiled egg, braised pork belly, bamboo shoots, and more. The noodles have the perfect bite, and the broth is so addicting you'll want to drink it straight.
Afuri - あふり
Address: 1 Chome-1-7 Ebisu, Shibuya City, Tokyo
Website: https://afuri.com/
For a lighter ramen, head to Afuri to try their yuzu-infused bowls. You can choose between shio and shoyu versions, both topped with chashu, nitamago egg, beansprouts, green onion, and nori. The refreshing yuzu adds brightness and complements the delicate broths perfectly. It's a heavenly warm weather option.
Menya Musashi - 麺屋武蔵
Address: 1 Chome-7-8 Sotokanda, Chiyoda City, Tokyo
With 12 hours of boiling, Musashi's broth is insanely rich and flavorsome. Their signature tsukemen comes with thick, chewy noodles that pair perfectly with the thick pork and fish-based soup. For adventurous eaters, try the unique dried fish powder topping that adds even more umami flavor.
Kikugawa - 菊川
Address: 3 Chome-24-7 Nishiogikita, Suginami City, Tokyo
Specializing in a shrimp and chicken broth, Kikugawa produces some of the most intensely savory ramen in Tokyo. It has a strong seafood taste complemented by wavy, wide noodles, tender chashu, sweet corn, bean sprouts, woodear mushrooms, and green onion. Be prepared to slurp up every last drop.
Nagi Shokudo - 凪食堂
Address: 15-10 Uguisudanicho, Shibuya City, Tokyo
Nagi Shokudo is known for its creamy vegan broth made from cashew nuts, miso, kombu, and shiitake mushrooms. Its thriving vegetarian ramen paired with spinach, corn, carrots, avocado, and tofu satisfies even hardcore meat-eaters. This is a great shop for plant-based diners.
Conclusion
Which of Tokyo's famous ramen restaurants would you visit first? The ramen options are endless, so come hungry and prepare your slurping muscles! From shoyu to shio, pork to vegan, Tokyo has a bowl to suit every palate.